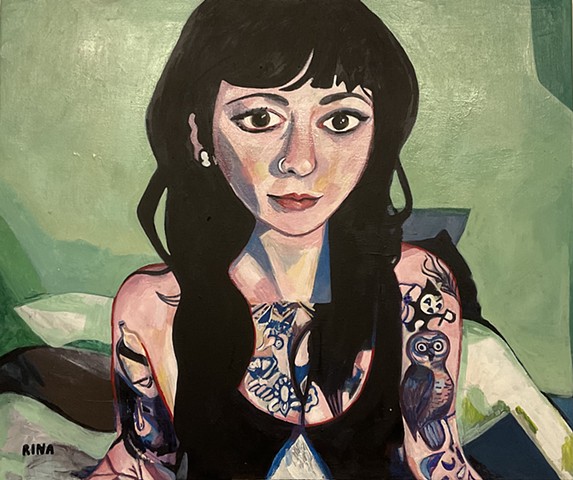 CURRENTLY OPEN VIA CURBSIDE PICKUP & LOCAL DELIVERY
Please contact rina@rinamiriam.com to arrange a pickup/delivery from Studio Harpy temporarily relocated curbside in the parking lot of The Hungerford Building, 1115 E Main St, Rochester, NY 14609
There wasn't enough room in the sketchbook.
My main introduction to art was through art as therapy. I filled two large sketchbooks while recovering during a difficult time in my life. I kept drawing and painting and changing the ways in which I was drawing and painting.
I liked the world I was able to create in my third sketchbook. Looking at that sketchbook felt like looking at a small insignificant story about a really really important world, and I felt like a left-out giant peering down at it. The amount of respect I had for the story didn't seem adequately represented by the small book I had used to capture it. I decided to make the sketchbook world real, larger than me, and something I could live inside of.
I have been doing that ever since.
Rina Miriam Drescher
Artist Statement, November 2016
Rochester, NY USA
Click here to sign up as a Patreon patron and become involved in Rina's current projects!
ONCE THE GLOBAL PANDEMIC SUBSIDES:
Rina's paintings, drawings, limited edition linoleum block prints, and zines can be purchased directly from Studio Harpy: Artspace, Hungerford Building, Rochester, NY USA. Open each First Friday of every month from 6:00 pm to 9:00 pm and by appointment.